Jenn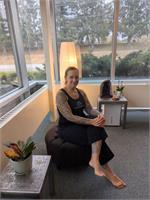 Jenn received both a 500-hour certification and a 200-hour certification in Shakti Flow from At Om Yoga, another 200-hour certification from YogaWorks, a 200-hour certification from O2 Yoga, and yet another 200-hour certification in the Yoga of Energy Flow. When Jenn walked into her first yoga class, she immediately fell in love with the practice. In addition to maintaining a full-time corporate career, she realized her dream of becoming a yoga teacher, and she also owned a successful yoga studio for several years prior to joining the YogaBalance team. Jenn's classes mix various styles of yoga, so each class is different, fun, interesting and challenging. She invites you to experience the benefits of yoga at YogaBalance.
Jenn instructs the following:
Our most vigorous and advanced class, based on the Vinyasa Flow style of yoga. We will explore a variety of fluid movements, postures and breathing techniques, moving from one posture to the next on each inhale and exhale, generating heat, strength and toning. Our Flow classes may explore arm balances and inversions, but modifications will be offered to ensure the class is appropriate for anyone who wants a challenge.




In this well-rounded class, we will stretch and strengthen our bodies, open our hearts and calm our minds. We will practice longer-held postures with a focus on alignment to refine and deepen our practice. We will practice flow sequences to help us connect with our breath and our subtle energy. Guided by the wisdom of yoga philosophy, we will learn to relate more deeply and authentically with ourselves and the world around us. Appropriate for all - modifications will be offered for beginners.