Sandi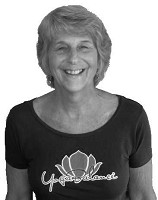 Sandra Powers ( RYT-200) has been teaching yoga since 2005. Her classes are devoted to self-acceptance and nurturing of the soul. She is a Reiki Master and Teacher since 2001, certified in Shamballa Multi-Dimensional Healing Method, Integrated Energy Therapy (IET) and has completed her Andean Medicine Wheel training as taught by The Four Winds Society. Sandi believes everyone can practice yoga – both on and off the mat. Along with teaching a gentle and moderate Hatha class, she teaches Yin Yoga, Chair yoga and Yoga for COPD. Sandi brings a healing quality to her class with self-acceptance at the core and is grateful and honored to share her yoga and wisdom.
Sandi instructs the following:
Perfect for beginners or experienced students who want a slower paced, less strenuous class. In this class, we focus on stretching postures, gentle flows and breathing techniques that release stress, reduce tension and promote relaxation through a calm, meditative approach to the practice. A wonderful class for students of all ages and for anyone that wants to slow down, learn to quiet their mind and be nurtured.




Yin Yoga is a nourishing practice that focusing on slowing down and "allowing". Most Yoga practices are a balance of Yin and Yang energy – heating, invigorating and active work complemented with cooling, calming and resting. Similar to Restorative Yoga, Yin Yoga focuses on the more calming or "Yin" element of the practice.

Yin Yoga focuses on releasing the deeper soft tissues of body; our ligaments, joints, fascia, and bones and places a particular emphasis on the areas of the hips, pelvis and lower spine. In Yin Yoga, we hold postures for longer periods of time to allow a gentle release within in the body, a return to the breath, the cultivation of mindfulness and the opportunity to truly experience the present moment.

$30 per person. YogaBalance monthly members get 10% off!