Irene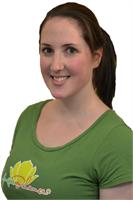 Irene started at YogaBalance in 2010 as a Studio Assistant (one of our best, ever!), and graduated with her 200-hour YogaWorks Certification in 2014. She is also trained in Prenatal Yoga instruction. She started practicing yoga before college as a method to relieve stress and to gain greater flexibility and strength, and she also strives to achieve greater spiritual knowledge. With a particular interest in teaching yoga to military personnel, Irene seeks to help all her students to maintain a lifelong yoga practice.
Irene instructs the following:
Perfect for beginners or experienced students who want a slower paced, less strenuous class. In this class, we focus on stretching postures, gentle flows and breathing techniques that release stress, reduce tension and promote relaxation through a calm, meditative approach to the practice. A wonderful class for students of all ages and for anyone that wants to slow down, learn to quiet their mind and be nurtured.