Melissa B.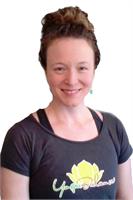 Melissa received a 200-hour certification from YogaWorks. She began practicing yoga in Tennessee in the late 90s. Initially drawn to the athleticism of yoga, Melissa's practice was strictly a physical one until the birth of her daughter in 2010. The new physical limitations she then experienced sparked the beginning of an interest in the deeper aspects of yoga, and now she loves both the physical challenge on the mat and the peace that extends beyond it. Melissa is excited to have you join her for a fun practice that will leave you smiling and with a full heart.
Melissa B. instructs the following:
Yoga is an excellent way to build core strength. In this class, we will explore postures that focus on the primary muscles that stabilize the "core" of your body, and that strengthen and stretch the abdomen, back, buttocks, hamstrings and hip flexors. Your body will enjoy a variety of abdominal work, back bends and twists. All levels are welcome.




Our most vigorous and advanced class, based on the Vinyasa Flow style of yoga. We will explore a variety of fluid movements, postures and breathing techniques, moving from one posture to the next on each inhale and exhale, generating heat, strength and toning. Our Flow classes may explore arm balances and inversions, but modifications will be offered to ensure the class is appropriate for anyone who wants a challenge.




Perfect for beginners or experienced students who want a slower paced, less strenuous class. In this class, we focus on stretching postures, gentle flows and breathing techniques that release stress, reduce tension and promote relaxation through a calm, meditative approach to the practice. A wonderful class for students of all ages and for anyone that wants to slow down, learn to quiet their mind and be nurtured.