Michele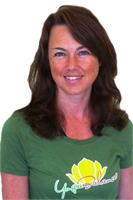 Michele has been teaching yoga full-time since 2006 and has over fifteen years' experience in physical therapy, so she clearly and safely guides her students through their yoga practice. She enjoys teaching yoga to beginners and experts, alike, and she also teaches Adapted Yoga for people with disabilities, Restorative Yoga for deep relaxation and chair yoga for seniors. Michele believes helping people to breath more easily and feel better in their bodies is the greatest gift of being a yoga instructor. She invites you to join her in any of her amazing classes at YogaBalance.
Michele instructs the following:
In this well-rounded class, we will stretch and strengthen our bodies, open our hearts and calm our minds. We will practice longer-held postures with a focus on alignment to refine and deepen our practice. We will practice flow sequences to help us connect with our breath and our subtle energy. Guided by the wisdom of yoga philosophy, we will learn to relate more deeply and authentically with ourselves and the world around us. Appropriate for all - modifications will be offered for beginners.




Our most vigorous and advanced class, based on the Vinyasa Flow style of yoga. We will explore a variety of fluid movements, postures and breathing techniques, moving from one posture to the next on each inhale and exhale, generating heat, strength and toning. Our Flow classes may explore arm balances and inversions, but modifications will be offered to ensure the class is appropriate for anyone who wants a challenge.




Yoga is an excellent way to build core strength. In this class, we will explore postures that focus on the primary muscles that stabilize the "core" of your body, and that strengthen and stretch the abdomen, back, buttocks, hamstrings and hip flexors. Your body will enjoy a variety of abdominal work, back bends and twists. All levels are welcome.




Perfect for beginners or experienced students who want a slower paced, less strenuous class. In this class, we focus on stretching postures, gentle flows and breathing techniques that release stress, reduce tension and promote relaxation through a calm, meditative approach to the practice. A wonderful class for students of all ages and for anyone that wants to slow down, learn to quiet their mind and be nurtured.