Amy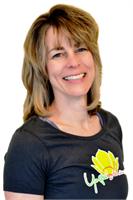 Amy received a 200-hour certification from YogaWorks. She has been a student of yoga since the birth of her first child in 2000. Yoga has always been a much needed physical outlet for Amy, as well as an opportunity for spiritual growth. While exploring the many styles of yoga, she always envisioned herself eventually sharing the gift of yoga through teaching. Amy enjoys sharing the healing power of yoga with her students.
Amy instructs the following:
In this well-rounded class, we will stretch and strengthen our bodies, open our hearts and calm our minds. We will practice longer-held postures with a focus on alignment to refine and deepen our practice. We will practice flow sequences to help us connect with our breath and our subtle energy. Guided by the wisdom of yoga philosophy, we will learn to relate more deeply and authentically with ourselves and the world around us. Appropriate for all - modifications will be offered for beginners.