Evelyn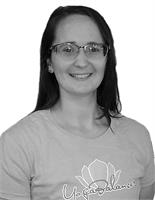 Evelyn is a graduate of the YogaWorks 200-Hour Teacher Training. Prior to earning her certification, she worked at YogaBalance as a studio assistant. When Evelyn took her first yoga class in 2013, her goal was to become more physically fit, but soon found that she gained significant positive emotional benefits from a consistent practice. Evelyn aims to create and share an environment in which individuals may cultivate their own peace on the mat and carry that calm into their lives.
Evelyn instructs the following:
In this well-rounded class, we will stretch and strengthen our bodies, open our hearts and calm our minds. We will practice longer-held postures with a focus on alignment to refine and deepen our practice. We will practice flow sequences to help us connect with our breath and our subtle energy. Guided by the wisdom of yoga philosophy, we will learn to relate more deeply and authentically with ourselves and the world around us. Appropriate for all - modifications will be offered for beginners.




Ease your way into the evening and unwind after a busy day. Perfect for beginners or experienced students who want a slower paced, less strenuous class, in this class, we will focus on stretching postures, gentle flows and breathing techniques that release stress, reduce tension and promote relaxation. We will finish with an optional 10-15 meditation for those who are interested or enjoy a deliciously long and luxurious Savasana! Absolutely no Yoga or Meditation experience is required.

Open to drop ins ($17/$12 for seniors and students). YogaBalance members get a 10% discount on the full 6 week series.




Restorative Yoga is the perfect antidote to the stress of modern life. It is the art of active relaxation; a refuge from our busy lives and an opportunity to slow down, let go and create ease.

In Restorative Yoga, we practice postures supported by blocks, blankets, bolsters and other props, which allow the body to gently and passively stretch and open. Following the physical practice, we will enjoy an extended relaxation, which will include a guided meditation to bring you to a state of emotional and mental peace. You will leave this workshop feeling calm, refreshed, renewed and restored.

$30 per person; YB monthly members get a 10% discount! Space is limited, so sign up as soon as possible!