Missy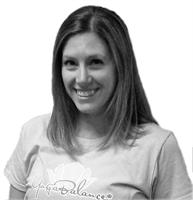 Missy began practicing yoga more than a decade ago initially seeking flexibility and strength after years as a trained dance. She quickly fell in love with the practice and realized it helped her find balance for her fast paced lifestyle. She recently realized her dream of becoming a yoga instructor after completing her 200-hour yoga certification with YogaWorks (right here at YogaBalance.) When she's not on her yoga mat she enjoys paddle boarding, cooking, and spending time with her family and friends. Missy is excited to share her love for yoga with her students.
Missy instructs the following:
In this well-rounded class, we will stretch and strengthen our bodies, open our hearts and calm our minds. We will practice longer-held postures with a focus on alignment to refine and deepen our practice. We will practice flow sequences to help us connect with our breath and our subtle energy. Guided by the wisdom of yoga philosophy, we will learn to relate more deeply and authentically with ourselves and the world around us. Appropriate for all - modifications will be offered for beginners.




Our most vigorous and advanced class, based on the Vinyasa Flow style of yoga. We will explore a variety of fluid movements, postures and breathing techniques, moving from one posture to the next on each inhale and exhale, generating heat, strength and toning. Our Flow classes may explore arm balances and inversions, but modifications will be offered to ensure the class is appropriate for anyone who wants a challenge.