Dee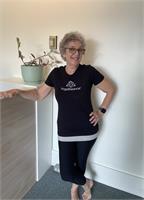 Dee was introduced to and fell in love with Yoga in college. Over the years, she always came back to the practice of Yoga to reconnect with body, mind, and spirit in both good and challenging times. She earned her YogaWorks 200 hour certification in 2015 here at YogaBalance. She has been teaching Yoga for Dartmouth-Hitchcock, Manchester for more than a year as part of an employee wellness program. Dee also teaches a weekly class for the Granite YMCA. She is excited and grateful to bring her lifelong love of Yoga to students at YogaBalance.
Dee instructs the following:
Perfect for beginners or experienced students who want a slower paced, less strenuous class. In this class, we focus on stretching postures, gentle flows and breathing techniques that release stress, reduce tension and promote relaxation through a calm, meditative approach to the practice. A wonderful class for students of all ages and for anyone that wants to slow down, learn to quiet their mind and be nurtured.