Gen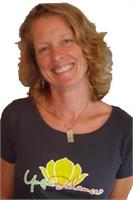 Gen Mackenzie is ERYT200 and RYT500 (Rolf Gates, Jacqui Bonwell and David Vendetti). She likes to teach a well-balanced class- delivering strength and flexibility for both body and mind. She is known for her fun choreography and eclectic music selection. "Yoga is a lifelong journey and my own experience has taught me that the challenges we are presented have the potential to lead us to amazing growth. I use my own practice to quiet down enough to see the new path presented to me." Gen is dedicated to bringing yoga to those in recovery. She recently completed the Y12SR Teacher Training, a program that integrates yoga and The 12 Steps. When she isn't at the studio, she can be found outside on a walk, or leading yoga classes with her friends in the recovery community.
Gen instructs the following:
In this well-rounded class, we will stretch and strengthen our bodies, open our hearts and calm our minds. We will practice longer-held postures with a focus on alignment to refine and deepen our practice. We will practice flow sequences to help us connect with our breath and our subtle energy. Guided by the wisdom of yoga philosophy, we will learn to relate more deeply and authentically with ourselves and the world around us. Appropriate for all - modifications will be offered for beginners.




Yoga is an excellent way to build core strength. In this class, we will explore postures that focus on the primary muscles that stabilize the "core" of your body, and that strengthen and stretch the abdomen, back, buttocks, hamstrings and hip flexors. Your body will enjoy a variety of abdominal work, back bends and twists. All levels are welcome.




Having learned the basics of a yoga practice (the why, what and how), now take your practice to the next level. In this workshop, Gen will be breaking down Sun Salutation A, Sun Salutation B, teaching the importance of transitions (how to move fluidly into and out of poses), and diving deeper into some of the more complex poses you might encounter in class.

This workshop is the next step after our Beginners' Yoga Workshop, but all with 6 weeks+ experience are welcome to attend. $30 fee per person. YogaBalance monthly members get a 10% discount! Mats and props will be provided - participants can take advantage of a 20% discount on YogaBalance yoga mats on the day of the workshop.




Perfect for beginners or experienced students who want a slower paced, less strenuous class. In this class, we focus on stretching postures, gentle flows and breathing techniques that release stress, reduce tension and promote relaxation through a calm, meditative approach to the practice. A wonderful class for students of all ages and for anyone that wants to slow down, learn to quiet their mind and be nurtured.