Ann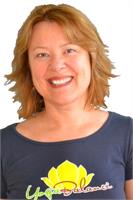 Ann is a graduate of two 200-hour yoga teacher trainings, including YogaWorks. She views yoga as a blessing that brought balance to her life while caring for her ailing mother and working as a lawyer. In addition to her 200-hour trainings, Ann has participated in numerous Kripalu workshops, and studied at the Himalayan Institute's ashram in Allahabad, India, which have brought a new depth to her practice and taught her that yoga provides fulfillment both on and off the mat.
Ann and her husband, Ron — also a lawyer —, are the owners of YogaBalance. They speak about the business of yoga several times per year at yoga conferences around the country.
Ann is currently not instructing any classes.