Jean-Marie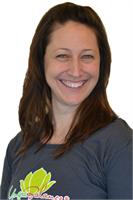 Jean-Marie has been teaching various styles of yoga since 2006. She attended her first yoga class in 1995 when she was a group fitness instructor, and she immediately incorporated yoga postures into her classes to promote flexibility. She subsequently received her 200-hour YTT certification in Anahata Integral yoga, and her 500-hour certification in Shakti yoga. As a perpetual student, Jean-Marie has an ongoing self-study practice, which consists of daily meditation and being present in each moment. She invites you to experience her diverse teachings in each of her YogaBalance classes.
Jean-Marie instructs the following:
In this well-rounded class, we will stretch and strengthen our bodies, open our hearts and calm our minds. We will practice longer-held postures with a focus on alignment to refine and deepen our practice. We will practice flow sequences to help us connect with our breath and our subtle energy. Guided by the wisdom of yoga philosophy, we will learn to relate more deeply and authentically with ourselves and the world around us. Appropriate for all - modifications will be offered for beginners.




Our most vigorous and advanced class, based on the Vinyasa Flow style of yoga. We will explore a variety of fluid movements, postures and breathing techniques, moving from one posture to the next on each inhale and exhale, generating heat, strength and toning. Our Flow classes may explore arm balances and inversions, but modifications will be offered to ensure the class is appropriate for anyone who wants a challenge.