Maryjean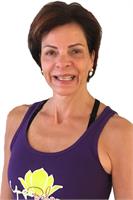 Maryjean came to yoga through her years in fitness and ballet training. Her personal yoga practice became her passion. She loved the external physical gains that her body made in flexibility and strength. She soon realized the true "power" of yoga lies in its ability to cultivate internal balance and clarity of mind and went on to complete her 200hr Yoga teacher training at the Kripalu Center. As an external and creative student, Maryjean continues to study all forms of yoga, allowing her practice to change and evolve and guides her classes with precision, enthusiasm, and safe alignment allowing her students to reach their goals for both body and mind.
Maryjean instructs the following:
Yoga is an excellent way to build core strength. In this class, we will explore postures that focus on the primary muscles that stabilize the "core" of your body, and that strengthen and stretch the abdomen, back, buttocks, hamstrings and hip flexors. Your body will enjoy a variety of abdominal work, back bends and twists. All levels are welcome.




Perfect for beginners or experienced students who want a slower paced, less strenuous class. In this class, we focus on stretching postures, gentle flows and breathing techniques that release stress, reduce tension and promote relaxation through a calm, meditative approach to the practice. A wonderful class for students of all ages and for anyone that wants to slow down, learn to quiet their mind and be nurtured.




In this well-rounded class, we will stretch and strengthen our bodies, open our hearts and calm our minds. We will practice longer-held postures with a focus on alignment to refine and deepen our practice. We will practice flow sequences to help us connect with our breath and our subtle energy. Guided by the wisdom of yoga philosophy, we will learn to relate more deeply and authentically with ourselves and the world around us. Appropriate for all - modifications will be offered for beginners.