Carlos A. Perez, DC, RMT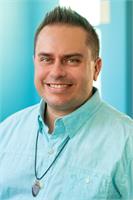 Carlos A. Perez, DC, RMT is a holistic chiropractor, sound therapist, and energy medicine practitioner with over 15 years of professional experience in holistic medicine. Driven by a compassionate calling to be in service with Spirit, Carlos blends the ancient wisdom of shamanism with sound healing and manual body therapy, which he delivers to his community to support healing and self-transformation. His practice is located inside The River Guild in Concord, New Hampshire where he offers individual healing sessions as well as group sound healing events and shamanic ceremonies. For more information, visit www.backinmotionpllc.com.
Carlos A. Perez, DC, RMT is currently not instructing any classes.