Emily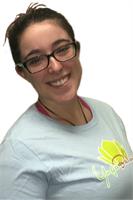 Emily first came to yoga in 2010 looking to improve flexibility and strength, but soon found that yoga provided her with much more than physical benefits. Practicing yoga allowed her to feel more centered and focused throughout the day. Emily received her Classical Yoga RYT-200hr certification in September 2017 from YogaLife. She is also a dance teacher at Unbound Dance Academy, teaching various disciplines to children ranging from 2 to 12 years old. She has recently completed the Kids Yoga Teacher Training program through ChildLight Yoga and is in the final stages of her certification process. She believes that a strong connection between the mind and body is fundamental to self-discovery and personal growth. Yoga has helped her own personal growth tremendously and so she is excited to share the many benefits of a yoga practice through her teaching.
Emily instructs the following:
Perfect for beginners or experienced students who want a slower paced, less strenuous class. In this class, we focus on stretching postures, gentle flows and breathing techniques that release stress, reduce tension and promote relaxation through a calm, meditative approach to the practice. A wonderful class for students of all ages and for anyone that wants to slow down, learn to quiet their mind and be nurtured.