Mary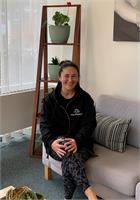 Mary's yoga journey began in 2009. She started with a Bikram yoga practice that over time evolved into a Hatha and Vinyasa Flow practice. Inspired by the many wonderful instructors she encountered on the mat, Mary completed her 200-hour yoga teacher training through YogaWorks at YogaBalance in 2018. Off of the mat, she makes a conscious effort to apply breathing and meditation techniques gained in yoga classes at her full time job as a second grade teacher. Mary is focused on providing a welcoming environment in which students can improve their physical and spiritual wellness.
Mary instructs the following:
In this well-rounded class, we will stretch and strengthen our bodies, open our hearts and calm our minds. We will practice longer-held postures with a focus on alignment to refine and deepen our practice. We will practice flow sequences to help us connect with our breath and our subtle energy. Guided by the wisdom of yoga philosophy, we will learn to relate more deeply and authentically with ourselves and the world around us. Appropriate for all - modifications will be offered for beginners.