Define who you are as a yoga teacher and develop your own voice

You know the basics to give your students an intelligent and effective yoga class. Now become a community leader as a professional teacher through one-on-one mentorship, class assisting and workshops by master teachers in the field. It's time to define who you are as a yoga teacher and develop your own voice.

Award-winning YogaBalance is New Hampshire's exclusive provider of YogaWorks YTT. Our next 300-hour, 8-month/11-weekend program will meet in Manchester, NH, from September 16, 2016, to June 4, 2017. Download our schedule.


10-Month Professional Workshop Series
You will participate in 14 weekend workshops over the course of 10 months to further develop your toolkit of skills taught by master teachers in the field.
Topics Include:
How to teach vinyasa flow and advanced asana
Restorative yoga, and yoga for chronic illness
Teaching beginners, seniors, children and pregnant women
Hands on adjustments
Theming
Injury assessment and management
Therapeutics
In-depth practice teaching
In-depth Pranayama
Bhagavad Gita
Yoga Sutras
Upanishads
Pradipika
Tantra and the energetic body
Buddhism
Subtle body
Meditation
Teacher-student relationship
Business of yoga
Art of voice
10-Month Apprenticeship
The mentor/apprenticeship relationship is how yoga was originally passed down to new teachers, and YogaWorks continues this effective learning tradition.
Activities Include:
Developing a one-on-one relationship with your mentor, who will guide you throughout the program and beyond.
Observing your mentor in action – instructing, sequencing, adjusting and inspiring.
Cultivating your teaching skills as you assist your mentor in class, honing your ability to see bodies, offering modifications and giving hands-on adjustments.
Participating in small group meetings with your mentor, where you address questions and issues related to teaching yoga.
The Most Professional Materials
Developed over decades, YogaWorks has created the most thorough materials of any 300-hour professional yoga teacher training program.
Tuition includes:
YogaWorks 300-hour training manual, curated by Master yoga teachers, including Maty Ezraty, and yours to keep.
Unlimited regularly-scheduled yoga classes at YogaBalance for the duration of the training.
Ten yoga classes at any YogaWorks studio: there are now

two Boston YogaWorks studios

.
Hundreds of tutorials on MyYogaWorks.com by leading YogaWorks Teacher Trainers made just for teacher training students.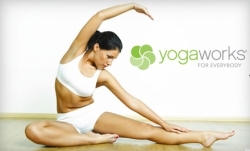 YogaWorks' founders — Maty Ezraty, Chuck Miller and Alan Finger — were all highly accomplished yoga practitioners who wanted to share the gifts they learned from their wise teachers, so in 1987 they opened YogaWorks' first studio in Santa Monica where they carefully weaved together many styles of yoga under one roof. They sought to uphold the 5,000-year Indian tradition of yoga by infusing their programs with integrity, quality, authenticity and a warm welcome to every student, and they were fortunate to attract the very best teaching talent in southern California.


Over 25 Years of YTT Experience
In 1990, when the demand for well-trained yoga teachers began to grow, Maty and senior teacher Lisa Walford created the world-renowned YogaWorks Teacher Training program by blending the heat and flow of Ashtanga, the precise alignment of Iyengar and the holistic approach of Desikachar. YogaWorks now has 40+ studios across the country each with their own YTT programs, and dozens of YTT partner studios around the world who also offer YogaWorks YTT. YogaWorks has graduated over 10,000 yoga teachers, including Seane Corn, Shiva Rea, Ana Forrest, Baron Baptiste, Vinnie Marino, Saul David Raye, Natasha Rizopoulos and many other renowned instructors.

YogaWorks is pleased to offer its world-class training to yogis throughout northern New England in conjunction with YogaBalance.
Manchester's Largest and Longest Standing Yoga Studio
Founded in 2004, award-winning YogaBalance offers the widest selection of classes and professional instructors in a modern, elegant setting. We are partners with internationally renowned yoga master teachers and organizations, including YogaWorks, Yoga Journal, Kripalu, Himalayan Institute and Wanderlust. YogaBalance's owners are regular presenters at yoga conferences across the country.
YogaBalance is the ideal location for serious yoga teacher training students throughout northern New England. Our YTT students come from New Hampshire, Massachusetts, Vermont, Maine and even upstate New York. We look forward to having you join our next 300-hour YTT program.